Reliable, caring professional handyman & certified electrician
My journey towards craftsmanship
I consider myself a lucky person, who had the possibility to grow up under the wings of an experienced handyman, my dad. As I remember, I was around him from the age of 12, giving a helping hand when he needed: digging soil for foundation, mixing concrete and tying up metal bars, carrying and laying bricks, mixing mortar, discovering step by step all the hand tools and equipment, building passionately the foundation of my craftsmanship. During the high school I became my dad's little apprentice, while building our own house. I took part of the plastering and rendering team, I assisted with the plumbing and drainage system, went through the steps of final finishes of the house, using lime-wash, which is one of the most natural paints, used since the middle ages.
After graduating from the university, I had the chance to learn more and broaden my knowledge about construction materials at a construction company
. Working as a construction technician and site supervisor, I reported to the general manager the work progress, while refurbishing a 4 star hotel for a very demanding client. After that we worked on the construction of a university campus, where I was reporting on the progress of the construction, keeping inventory of the building materials and supervising the construction team on behalf of the company.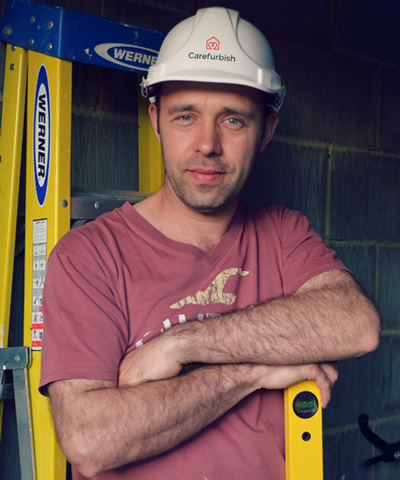 But as the life has always a twist, it happened that I changed my career, getting a job in the hospitality sector and moved to the United States. I kept myself busy with my new job, but I couldn't stop to practice my passion and help people, relying on my experience, while honing my craftsmanship. I realized that I can fix anything and people's feedback showed that I'm actually good at what I do. This was the moment where my actual career path started: I decided to follow my passion and make a living from it. This is how I started Carefurbish, the rest will be history…
Skills that make me stand out
My principle is that my job should always be done precisely and efficiently. One of my favorite part of pursuing this job is that I get to do something different with every project. I have a really diversified skillset as a handyman: sometimes I paint walls and furniture, sometimes I repair gates or other joinery, while sometimes I spend all my day in a bathroom tiling and fitting shower cabins, toilets, tubs or sinks. I like to cover a wide range of activities, while executing them at the highest standards, and I can say this is one of my strengths.
At the end of the day all that matters to me is the satisfied smile on the face of my clients. They know that they can safely hire then rehire me, because I put my heart in my handyman work. I like to deliver high quality work by doing the best possible. I learnt that no matter what I do, I have to do the best by learning continuously and keeping up to date with the latest tools, techniques and materials.
My definition of quality work
When I made the career shift, and moved to Wyoming, USA I got a job in the prestigious five star hotel, Four Seasons. There I spent almost two years serving the highest demanding guests, providing them the best care that was possible. I had the chance to experience this hotel as a guest as well in Los Angeles. What I realized that time is that even next to a busy motorway, when the windows were shut I wasn't able to hear any noise from outside. That's what I call high quality insulation. The finishes also, what you find there, are amazing. I made a commitment to offer the same quality for my future clients.
Looking for a reliable & professional handyman?
Request a free estimate today